Based on the work of several guys, we started to build 4 x VHF and 2 x 6m amplifiers using those transistors. There are a couple of websites about this, most of which are very usefull especially when you are not a solid home-brewer ! A complete description can be found on F1TE website.
We'll try to present as many details as possible with sources.
First of all, we have collected all pieces of the puzzle, some from Radiospares, or Conrad, some from local dealers, some from Ebay sellers.
1.  Transistors & necessary HF components -> RFHAM
2.  Copper plate -> local om dealer
3.  Protection (bias, RFin, SWR, temperature) boards -> F1TE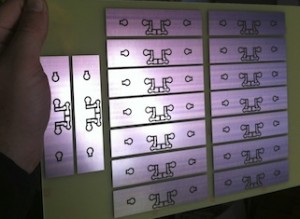 3.  Directive coupler -> home-made
4.  50v power supply -> local dealer
5.  Heatsink for copper plate -> Old Ericson 170 mHz amplifier
6.  Components from Radiospares & Conrad (for F1TE's  board):
Radiospares
| | |
| --- | --- |
| 2232439 | Resistance Cms Crg1206 22k 0.25w (Paquet d… |
| 2232445 | Resistance Cms Crg1206 27k 0.25w (Paquet d… |
| 6792020 | Résistance Crcw1206 0,25w 1% 2,2r (Paquet d… |
| 2232596 | Resistance Cms Crg1206 330k 0.25w (Paquet … |
| 2232350 | Resistance Cms Crg1206 4k7 0.25w (Paquet d… |
| 1646297 | Thermist Ctn 100k (Paquet de 5) |
| 2232322 | Resistance Cms Crg1206 2k7 0.25w (Paquet d… |
| 5442651 | Convertisseur 5/5v (la pièce) |
| 6710309 | Régulateur Linéaire Positif Fixe (Paquet de 5) |
| 540785 | Amplificateur Opérationnel Double 30v (Paquet… |
| 2204793 | Embase Miniconnec (Paquet de 5) |
| 2204709 | Bornier Miniconnec (Paquet de 5) |
| 7077690 | Résistance Au Carbone, 0,25 w, 5 %, 2k2 (Paq… |
| 6791825 | Résistance Crcw1206 0,25w 1% 15r (Paquet d… |
| 6900085 | Transistor Bipolaire Npn 45v 0,5a Sot-23 (Paqu… |
| 2232439 | Resistance Cms Crg1206 22k 0.25w (Paquet d… |
| 2232445 | Resistance Cms Crg1206 27k 0.25w (Paquet d… |
| 6792020 | Résistance Crcw1206 0,25w 1% 2,2r (Paquet d… |
| 2232596 | Resistance Cms Crg1206 330k 0.25w (Paquet … |
| 2232350 | Resistance Cms Crg1206 4k7 0.25w (Paquet d… |
| 1646297 | Thermist Ctn 100k (Paquet de 5) |
| 2232322 | Resistance Cms Crg1206 2k7 0.25w (Paquet d… |
| 5442651 | Convertisseur 5/5v (la pièce) |
| 6710309 | Régulateur Linéaire Positif Fixe (Paquet de 5) |
| 540785 | Amplificateur Opérationnel Double 30v (Paquet… |
| 2204793 | Embase Miniconnec (Paquet de 5) |
| 2204709 | Bornier Miniconnec (Paquet de 5) |
| 7077690 | Résistance Au Carbone, 0,25 w, 5 %, 2k2 (Paq… |
| 6791825 | Résistance Crcw1206 0,25w 1% 15r (Paquet d… |
| 6900085 | Transistor Bipolaire Npn 45v 0,5a Sot-23 (Paqu… |
| 5044982 | Lm26cim5-npa/nopb (Paquet de 5) |
| 6835675 | Résistance Pr02 A/p Axiale 5% 2w 47r (Paquet… |
| 6698644 | Condensateur Cms 4,7nf 200v 1206 10% X7r (… |
| 6715477 | Diode Ultra Rapide 100v 0,3a Do-35 (Paquet d… |
| 6678826 | Résistance Cms 7,5k 1% 0,063w (Paquet de 50) |
| 6512694 | Thermostat Lm26cim5-rpa (Paquet de 5) |
| 6698640 | Condensateur Cms 2,2nf 200v 1206 10% X7r (… |
| 163410 | Resistance Film Metallique 82r 0.75w (Paquet … |
| 6695326 | Embase Droite Simple Rangée 6c Étain (Paque… |
| 6695336 | Embase Droite Simple Rangée 10c Étain (Paqu… |
| 7409097 | Résistance Couche Épaisse Cms1206 2k2 1% … |
| 7409081 | Résistance Couche Épaisse Cms1206 10k 1% … |
| 7409117 | Résistance Couche Épaisse Cms1206 1k 5% (… |
| 7409114 | Résistance Couche Cms1206 100k 5% (Paquet… |
| 7409120 | Résistance Couche Cms1206 470r 5% (Paquet… |
| 7409132 | Résistance Couche Épaisse Cms1206 6k8 5% … |
| 7409139 | Résistance Couche Épaisse Cms1206 47k 5% … |
| 7409123 | Résistance Couche Épaisse Cms1206 1k5 5% … |
| 7409079 | Résistance Couche Cms1206 100r 1% (Paquet… |
| 7084834 | Trans Mosfet N-ch 100v 7.7a Ipak (Paquet de 10) |
| 7407596 | Condensateur Céramique X7r 1206 100nf (Pa… |
Conrad :
163709 62    DIODE SCHOTTKY MBR340 DO- 7
180084 62    DIODE ZENER ZPD4,7 DO-35
156493 62    Korea Electronics transis 35
151485 62    ON Semiconductor thyristo
152561 62    CI LT1076HVCT TO220-5
 447421 62    Trimmer cermet 3296Y 100K
447138 62    Trimmer cermet 3296Y 50K
447112 62    Trimmer cermet 3296Y 10k
7.  Diodes MA4PH282 (PINDIODE 500V) -> Hoefler-Elektronik   zhoefler@t-online.de
8.  Bargraph & LM319 -> Ebay      teketr_gyw3229sh@members.ebay.com