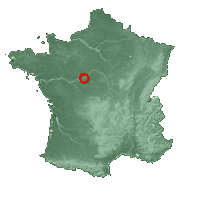 General informations:
My name is Flo, and I'm 33 years old.  I live in a small village called Souvigné, just 25 kilometers north of Tours, my birth place. We are less than 1000 in the village but there's a lot of activities organised for inhabitants.
Tours is the closest big city with about 300.000 inhabitants including the suburb. We're located at 250 km South from Paris, only 55 minutes by train.
This city is crossed by several rivers (La Loire and Le Cher). The Loire Valley (World Unesco Heritage) is famous because in the past, many kings were living in castles built along this river, which is also the longest one in France.
The Loire Valley is an outstanding cultural landscape of great beauty, containing historic towns and villages, great architectural monuments (the châteaux), and cultivated lands formed by many centuries of interaction between their population and the physical environment, primarily the river Loire itself.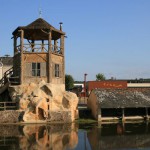 For those visiting our place, there's many things to discover. We have several wine cultures and our region produces red (Chinon, Bourgueil, St Nicolas de Bourgueil), white wine and the famoussparkling wines (Vouvray – Montlouis). I prefer these sparkling wines rather than the famous Champagne as they are more tasty and bubbles are bigger. Prices are much lower. Many places allow vistors to discover how they produce them. If you need any informations, let me know. I already organized visits for foreigners and it will be a pleasure to give some advices and good adresses.
Job:
I studied industrial electricity at the high school before integrating the SNCF (train company). I started by integrating the internal driving school of the company for 1 year, finalized by an examination to obtain the qualification of train engineeer.
Over the years, I acquired new competences which enable me to drive passenger trains up to 200 km/h. My headquarter is St Pierre des Corps (Tours) and my main destination are Paris, Nevers, Nantes, Angoulême.
Hobby:
My main hobby is Amateur Radio Communications. I started at the age of 13. I've been initiated by my uncle, Jacques F6ICN. SWL for a year or two, I started the licencing process and got my first callsign at 14 year old. I've been FA1CWU (2m only) and 1 year later F1CWU (from 6m to SHF). After a successful code exam, my licence has been upgraded to HAREC 1 and my callsign became F5CWU. I was 16 year old.
Since 17 years now, I enjoy my hobby by contacting other amateur radio stations all around the globe and I enjoy traveling in foreign countries. My goal is to reach 100 countries visited and activated. So far, already a half has been done. Have a look to the « Expeditions » section of the website to discover each country I have visited. Which will be the next one ?