Date: 17 to 22th of September 2005
Location: Isola Rossa
Number of contacts: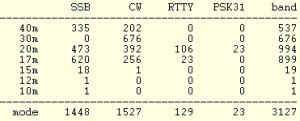 During this trip, I made about 3000 QSO in 3 days, mostly on 20/17 and 15m. The 2 last evening, I put a dipôle for 30 and 40m. It was vacations but with a radio activity. I was alone there, so no schedule and no complain from anyone about the overnight operation. The first neighbours were at 600m.
I used my FT-1000MP MK5 Field and an AL-1500 (Tnx Terry F5MOO). The antenna was a Cubical Quad 2 els home brew at 7m up. For 30/40m a simple dipôle was used. The first day after the arrival by boat from Italy and all along my driving, I made a couple of qso from my mobile station (FT-100d and helli-weep).
The Wx was really hugly and most of the time it was raining but finally, 2 last days were fantastics with nice sunny days.